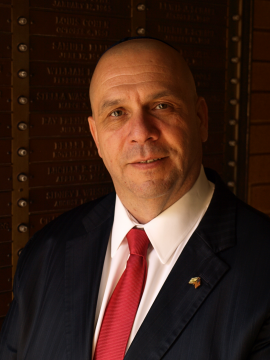 Rabbi Jeshayahu (Shai) Beloosesky
Congregation Children of Israel is excited to welcome Israeli Rabbi Jeshayahu (Shai) Beloosesky (Bell-loo-sess-key) as its spiritual leader. Since his arrival in August 2015, his energy, charisma, love of people, and love of Judaism have become apparent to those who have met him.
Rabbi Shai brings with him a wealth of experience. A retired Colonel from the Israeli Defense Force, he had the opportunity to command, mentor, teach, and guide thousands of soldiers during his twenty-nine year Military career. Among the many IDF positions he held, Colonel Beloosesky was Assistant to the Military Secretary to Prime Minister and Minister of Defense the late Yitzhak Rabin.
It was during this time in his life that he decided to become a Reform Rabbi. He believed that a person could approach Judaism in a variety of ways and that we must always respect the beliefs of others.
Following his distinguished service in the IDF, Rabbi Shai worked for Toronto, Canada's Jewish Agency serving as its advisor and supervisor of Jewish education. He also founded and directed the Adraba Organization in Israel, which provides informal education and promotes Jewish identity both within and outside Israel.
Following his ordination in 2011 at the Hebrew Union College in Jerusalem, Rabbi Shai became the leading rabbi of Congregation Or-Hadash in Haifa, Israel where he assumed all rabbinic responsibilities. He holds a Bachelor's Degree in Jewish Studies and History as well as a Masters degree in Political Science from the University of Haifa. In 2021 he graduated from Hebrew Union College with a Doctorate in Ministry, and he is currently engaged in studies for his professional certification in Counseling.
He credits his parents and grandparents for instilling in him the love of Torah, Judaic tradition, love of humanity, love of Israel, and a strong belief in following the right path. These attributes have remained with Rabbi Shai throughout life, and he is now passing them along to his four sons.
Rabbi Shai's extensive life experiences have helped to shape a man of strong character and spiritual strength. His love for people, his love for teaching, his boundless energy, and his strong vision for the future are attributes to be admired. He views himself as an emissary whose mission it is to bring sparks of light where they are needed most. A greatly respected man, Rabbi Shai has developed friendships throughout the United States and around the world.
Congregation Children of Israel is proud to have Rabbi Shai Beloosesky who has brought strength, vision, knowledge, and passion to our congregation. We are appreciative and thankful to call him our Rabbi.
Rabbi Shai may be reached at ccirabbi@cciaugusta.org.