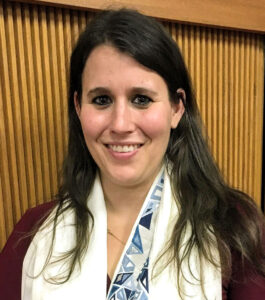 Rabbi Liverman
Rabbi Liverman was born in Montreal, and was raised in Toronto, Canada. Growing up, she and her family were active members of  Temple Sinai in the greater Toronto area. Remy spent her summers at Camp Northland B'Nai Brith in northern Ontario. She moved to the United States in 2008 to begin her Undergraduate Studies at the University of Miami in Coral Gables, Florida where she earned her B.A. in Philosophy and Psychology, with a minor in Theater Arts. 
 After graduating, Rabbi Liverman decided to move to Israel to be part of a new MASA program, volunteering as a medic with Magen David Adom in Tel Aviv and Jerusalem. In 2016, Remy went back to school to do her Master's in Religious Studies at Georgia State University in Atlanta, where she also taught an Introduction to World Religions class for undergraduate students over the course of those two years. 
While living in Atlanta, she was passionately involved with the Temple in midtown Atlanta, where she taught in the Brehman Education Center as a Hebrew school teacher, and was fortunate to work with the clergy there on several projects with their young adult outreach programs. During her time at the Temple, she had the opportunity to work on several projects pioneered at the Rothschild Social Justice Institute at the Temple. She was honored to work with their ongoing projects for social and racial justice. She is deeply grateful for her time at the Temple in Atlanta, and the opportunity to have worked in a congregation with such a rich and impressive history of social justice advocacy, dating back to Rabbi Rothschild's committed involvement as an activist and supporter of the Civil Rights Movement.
Rabbi Liverman has had the privilege of serving as the student rabbi for several congregations across the Midwest – Congregation Oheb Shalom in Sandusky, Ohio, Temple Israel in Marion, Ohio and at the United Hebrew Congregation in Terre Haute.
She has also had the unique opportunity and pleasure of serving as the Jewish Foundation Fellow at Congregation Beth Adam in Loveland, Ohio throughout the 2019-2020 year and as their summer Education Fellow for the summer of 2020.
She has been worked as a student chaplain at Mercy Health's Jewish Hospital, University of Cincinnati Hospital, and Daniel-Drake Center for Post-Acute Care. She also served as the student chaplain and rabbi at the Kenwood Senior Star Retirement Community.
She has worked in clinical pastoral care education in Cincinnati and interned at the local Mayerson Jewish Community Center (JCC), where she worked with every age and stage, from early childhood through to their 60 & Better Community on new and ongoing projects and programs.
Rabbi Liverman completed a podcast series for her Senior Capstone Project; Healing the Hidden: Discussions on Mental Health and Stigma through Contemporary Jewish Practice and Tradition. Her interviewees have included Rabbi Richard F Address, D.Min Founder-Director Jewish Sacred Aging®, jewishsacredaging.com and host of weekly Seekers of Meaning podcast, Rabbi Mark Washofsky (PHD), Rabbi David Burstein (Rabbi/Educator at Congregation Beth Adam in Cincinnati), Mark Baranek (Director of Engagement at Temple Beth Sholom in Miami Beach), Liturgist Alden Solovy (https://tobendlight.com/about-the-author/), and others to follow.
Rabbi Liverman is deeply passionate and involved in mental health care advocacy and outreach, and she hopes to continue this important work in her rabbinate. Beyond her capstone project, she hopes to continue the work she has started on issues ranging from reproductive justice, criminal justice reform, advocacy against domestic violence, antisemitism, racial justice, among many others.
Sharing prayer and worship through music has been an integral part of her rabbinical work. She is a trained singer and is currently trying to expand her musical abilities in learning to play the guitar and ukulele.
In her spare time, Remy enjoys swimming, hiking, biking, and walking her dogs Murphy.
Rabbi Liverman may be reached via email at ccirabbi@cciaugusta.org, or by telephone at 706-736-3140.